Meet Our Donors
We thank all our planned-gift donors for their generous support. Here are some of their stories.
ONE FAMILY'S LIVING LEGACY AT PEIRCE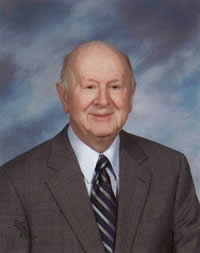 Robert Hollenbach '48
The Hollenbach family has been synonymous with success at Peirce for almost a century. The connection started when Raymond Hollenbach, Class of 1916, first walked through the doors of the Peirce School to advance his career opportunities after serving as a schoolteacher in his native Lehigh County. Following in his footsteps, his son Robert (Bob) Hollenbach '48 pursued his diploma at Peirce, commuting each day from Chester County. Bob went on to utilize his business education in a successful career in the transportation industry, culminating in ownership of his own firm, RH Rate Services.
Several years ago, in appreciation of the success they enjoyed and the community in which they flourished, Bob and his late wife Phyllis decided to work with the Chester County Community Foundation (CCCF) to create the Hollenbach Family Foundation. The Foundation, which provides a legacy of support to the people and charitable organizations in the area, has named Peirce College the recipient of funds which will be used to create the Raymond E. Hollenbach '16 and Robert R. Hollenbach '48 Scholarship Fund.
Bob Hollenbach believes that "getting a good education is vital to everyone in this country" and is appreciative of the role that Peirce has played in his family's life. After learning more about the role that donors like him play in helping students complete their educational goals at the College, he decided "that this opportunity at Peirce would be a way to help someone who needs the help." The creation of the Raymond E. Hollenbach '16 and Robert R. Hollenbach '48 Scholarship Fund ensures that the family's strong ties to the Peirce community will go on for generations to come.
We invite you to follow the lead of alumni like Bob Hollenbach who create a legacy at Peirce College which will benefit our students well into the future. Discover the benefits of giving wisely and learn more about the ways in which Peirce, you and your loved ones all benefit at the same time: please consider planning for a gift from your will, trust, or retirement plan. In addition, you can make a gift of stock, appreciated assets or life insurance which will benefit individuals who attend to Peirce to improve their lives through degree attainment.
To start a conversation about your planned giving options at Peirce, contact Uva Coles, Vice President, Office of Institutional Advancement & Strategic Partnerships, at 888.467.3472, ext. 9206 or email at uccoles@peirce.edu. The Peirce website can also help you explore your choices: visit peirce.plannedgiving.org.